When I found out my students would be tested in Grammar, I had to come up with some creative ways to teach my kids all the rules and tricks of our English-language system. My unit on verbs went along on the idea of verbs showing action, so I came up with a Hollywood theme to make it relevant and fun for my students.
Also, I created a fun, Hollywood themed worksheet for students to become familiar with the format in which they would be tested. It's a quick, easy way to check how well they understand verbs.
To download this packet of Verb Flash cards and worksheet and to find out other fun activities to go along with this unit, come visit me at Primary Junction!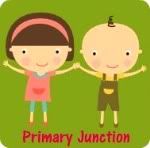 Have fun learning about verbs!
Kayla