I remember when I first started teaching and how I felt like I was drowning at the beginning of the school year. Drowning in paperwork. Drowning in meeting and new curriculum. Drowning in trying to get my classroom set up every day after school only to be told something different had to change by the next day.
I get it. I've been there.
But I also know what it feels like to finally have put together some tried and true BTS activities, so at least my lesson plans were stocked and ready to go without feeling like I needed to come up with something new out of the box yet again this year.
Suddenly I felt in control. Perhaps I couldn't do a darn thing about the 10th staff meeting this week or that the specials schedule was out of whack yet again. But I knew I could easily make some adjustments in my lessons if needed and still be on track.
That feeling was different. It is pride and empowerment. But mostly relief from the nonstop stress of trying to figure it all out at once.
And today, don't teachers need all the empowerment we can muster? I really think we do.
Virtual and remote learning has put everyone back at negative square 1 for being prepared for anything. But hopefully we can start to change that.
Part of what I do outside of the class these days is helping other teachers to find those long-lost feelings. And I know a few teacher sellers who also feel the same.
That's why we came together to offer a super exclusive option to those teachers who just wanted the hard stuff done for them. That's a good thing. It means you can spend more time with your family at night and extra time getting to know your new superstar students during the day – even if that means you only get to "meet" them through a computer screen for the time being.
I was blown away by the kind words about these items from teachers everywhere. What they have said:
"Thank you so much for such great resources!"
"Your powerpoints are amazing! Thank you so much for these!"
"I love this!!I am so glad I purchased it."
"My special learners really enjoyed the bubbles theme and interacting with their work!Thank you!"
"Used with sharing on individual team meetings with students. Not only helped with vocabulary but also with oral language."
"This simple resource was quick and easy for parents to understand, and some of my students were able to work independently. I hope that by next year they all will be able to so."
"This was a life saver! I was looking for paperless activities for my students to do that involved more than just typing and reading. Your resource worked so well, and the kids loved it! It was like a game to them, so they didn't even realize how much work they were doing! Thank you!"
"My students LOVE playing this as a whole group while during online learning!"
"My students seem to enjoy completing this resource and it helps them with their short vowel sounds.It is also fun because it's like a hidden picture activity, too.This activity was easy to use for distance learning."
"Absolutely love this resource!!!"
"We have looked far and wide for good and true distance learning resources. This is definitely a good one that students are able to use with minimal help from parents."
"Found this easy to use."
"Digital Citizenship will be a major focus for our District in 2020-2021 school year. I will continue to use this with students when school resumes in August. This is a great resource."
"Great way to start the year without a lot of prep work!Thanks so much!"
"I really liked the planning page. It helped my students so much with their writing. Thank you!"
"This was very handy and the kids really had fun with this resource. Thanks."
"This resource was very beneficial, especially for Remote Learning. I would HIGHLY recommend it. "
And that is less than HALF of them! WOW.
This is everything to us.
It also helps us to know we are doing the work we were meant to do.
Thanks so much for taking a look at the CF Collective Virtual Learning BTS Bundles!
If you want to start enjoying your back to school season a lot more like the teachers above for yourself – let's get started together!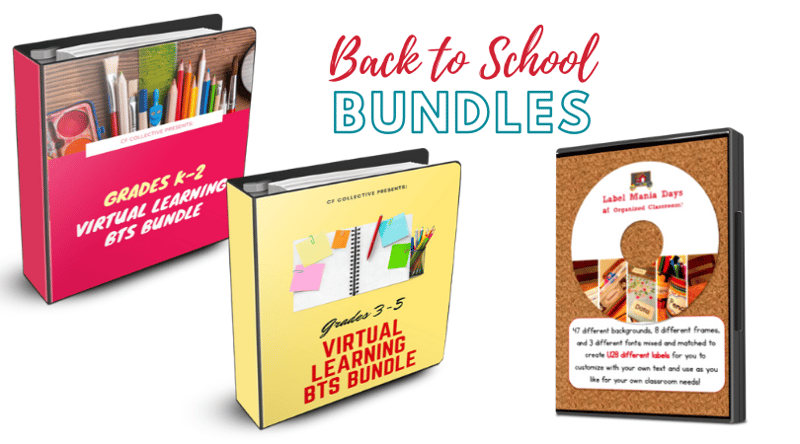 These special bundles are only available until that timer runs out, then they are gone forever. You'll want to grab it now before life gets in the way.

When you join, you get INSTANT and IMMEDIATE access to the entire bundle and a special bonus.
~Charity