My first year teaching, I thought I was ready for the first day of school. I had a new outfit, complete lesson plans, and my room was warm and welcoming. I forgot one of the most important things for student success, established classroom routines and procedures. This was evident the very first day when my students walked in. I realized I hadn't properly thought out classroom routines and procedures. I made them up on the fly. You can imagine how that went over (face palm). Confusion and chaos ensued. If I couldn't keep them straight, how could I expect my students to know what to do? My point? Before students set foot in your classroom, it is important to have a plan for routines and procedures.
Classroom Routines and Procedures…Where Do I Begin?
Start thinking about when you need established routines. In an elementary classroom, this is almost every part of the day. There are four major categories I use when thinking about routines and procedures.
Transitions
Work Time
Organization/Daily Routines
Behavior
Use the free classroom routines and procedures organizer to brainstorm your needs. You can download it (and many more resources) in the Free Resource Library. Become a subscriber to receive the code to access the Free Resource Library in your inbox!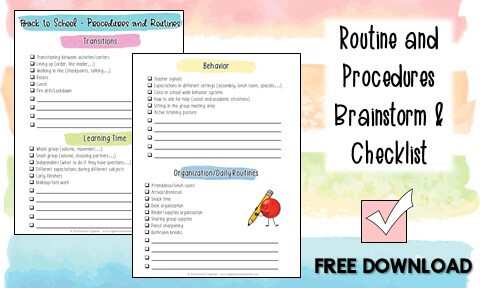 Transitions
This is a biggie in my classroom the first week of school. We discuss expectations and then practice, practice, practice. By practice, I mean that I give them lots of opportunities to move from place to place and then model and positively reinforce smooth transitions.
Learning Time
Throughout the day, students are learning in a variety of places and with different grouping options. Each situation has specific expectations. It is important to identify the best learning environment for each scenario and explicitly discuss how it should look and sound.
Behavior
Understanding behavior routines and procedures help you avoid behavior problems later. Common behavior routines include teacher signals (attention getters), class/school wide behavior systems, expectations in different locations (recess, cafeteria…), and how to ask for help.
Organizational/Daily Procedures
Finally, organizational and daily procedures are the things that happen automatically in an efficient classroom. Once explained these things should happen without prompting, saving your time and sanity. Examples of organizational/daily procedures include attendance, sharing supplies, what to do when a student is absent, and desk/supply organization. Need help motivating students to keep their desk clean? Check out this freebie!
Routines and procedures can make your class run seamlessly. Do you have any routines that are particularly effective in your classroom? I would love to hear about them below in the comments section.
Don't forget! Download your classroom routines organizer in the free digital resource library! Planning your routines and transitions in the beginning will save you time in the long run and help your students succeed.
Enjoy!
-Mary
This post originally appeared at Together We Are Smarter.